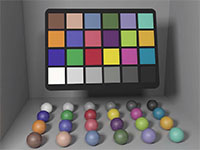 Tutorial by Martin Breidt
"What is gamma? Why do we have it? When should I perform gamma correction? And what happens if I just ignore it?"
The article is very general and is applicable to all CGI applications. Only in the second part, it contains information specific to 3ds Max.
Donload PDF
here
NOTE: What i think, heh, shortly to say:
correctGamma =

undefined
Yes, will be good to say as Martin correctGamma = 2.2 , but think more about the standards. :)