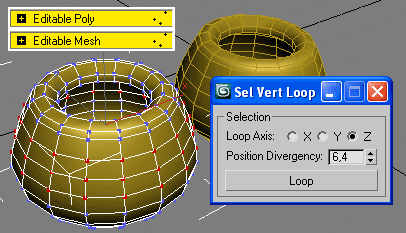 Extend 3ds Max selection features on Editable Mesh and Editable Poly.
Following comments in the
ScriptSpot forum
on my script
Select Vertex Loop
which I published
there on 21 August
, I decided to add any additional notes. And finally today I
updated
the script also to support object set, ie to works on selection of objects. Maybe this upgrade is a bit strange for me, but why not then someone finds this useful, right?
For more details and downloads the new version 1.1 (also and previous version 1.0) read my post on
ScriptSpot
.
Also you can see demo video out there or here are links to: